Thursday, March 13, 2008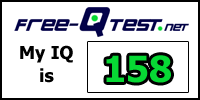 Free-IQTest.net -
Mensa IQ Test
So there!
I is smartlike!
Posted by

Erik Buchanan
at 10:21 PM
0 comments
Links to this post


Wednesday, March 05, 2008
Got another couple of pages on my website done. The HOme page, writing page, Appearance page, bookstore main page contacts page and dragon moon press page all work, as do all the links from those pages. Yay!

The Obsessions and Links pages are still a mess, so don't go there.

But I'm getting close...
Posted by

Erik Buchanan
at 11:16 PM
1 comments
Links to this post